The investigation and diagnosis, treatment and follow-up of cancer cases has become very complex in recent years. A single doctor is often no longer able to provide the patient with comprehensive care in terms of time and expertise. Rather, a team of doctors and other specialists is required, who support the patient with their specialist knowledge in order to define the best possible therapy and to carry it out in a contemporary and coordinated manner. Close cooperation with family doctors and external services is crucial for the continuity of care.
For diagnostics and surgical procedures, we work closely with experienced specialists from the Hirslanden Klinik Aarau and its institutes. Our network includes over 100 specialists from all medical and surgical specialties. Thus, even complex investigations and therapies can be carried out quickly and under one roof. The close networking of medical oncology, hematology, palliative care, radiotherapy, surgically active affiliated physicians and internal medicine specialists guarantees optimal treatment supported by all disciplines.
In the case of inpatient stays, patients continue to be cared for by their responsible doctor, so that the continuity of medical care is guaranteed.
Tumor Boards
Regular meetings among the specialists who specialize in the treatment of malignant tumors are an important part of the interdisciplinary cooperation. Thanks to this interdisciplinary approach, an optimal management strategy can be defined. Our tumor boards are open to all interested physicians.
Weekly tumor boards take place in general oncology, breast cancer, gynecological tumors, gastrointestinal tumors, urological tumors and we have a weekly palliative care meeting of inpatients.
Within the Tumor Center Aarau, we discuss patients in palliative situations and complex courses in regular meetings among specialists in medical oncology, hematology, palliative care, radiotherapy.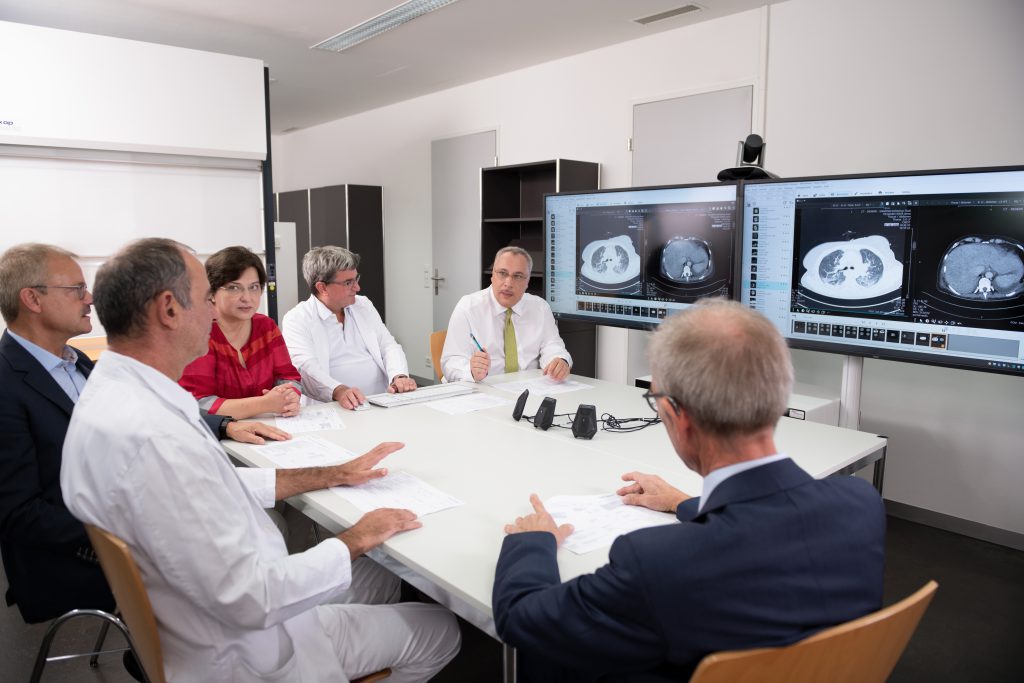 Short distances usually allow us to see patients together with other specialists in our consultation hours when appropriate. For example radiotherapy or palliative care can be discussed at the same time in the planned oncological consultation.