Medical oncology deals with the prevention, diagnosis and drug therapy of tumor diseases. Along with surgery and radiation, medical oncology aims to remove all tumor tissue, or, when this is no longer possible, to reduce and control the tumor with the aim of maintaining quality of life and extending life expectancy. In addition to specific tumor-oriented therapies, supportive and palliative treatment and follow-up of patients with cancer are of great importance. Medical oncology at the Tumor Center Aarau is headed by Dr. Razvan Popescu.
Experienced specialists quickly gather all the necessary information about the tumor situation and general condition of the patient. If necessary, examinations are initiated, e.g. tissue removal for diagnostic procedures including further molecular analyses, imaging, special examinations. The aim is to have as quickly as possible a complete picture of the oncological situation. The short referral pathways to other specialists guarantee a problem-centered and fast process.
We aim to develop a therapy concept within a few working days, which is discussed in detail in the oncology consultation and in many cases in a second consultation. The therapy plan, agreed in multidisciplinary tumor boards, the way to assess tumor response and the goals of therapy are discussed with the patients and their relatives.
The wide range of drugs and methods available today (e.g. chemotherapies, antibodies, molecularly directed therapies, immunotherapies, hormone therapies) is applied individually depending on the patient, tumor type and tumor stage. In addition, we offer various clinical trials that provide access to promising therapies that have not yet been approved.
Most modern treatments can be performed on an outpatient basis, they are fully available to all patients, regardless of their insurance coverage. In the case of therapies that have not yet been approved or have limited license, we quickly obtain the guarantee of financing from the health insurance.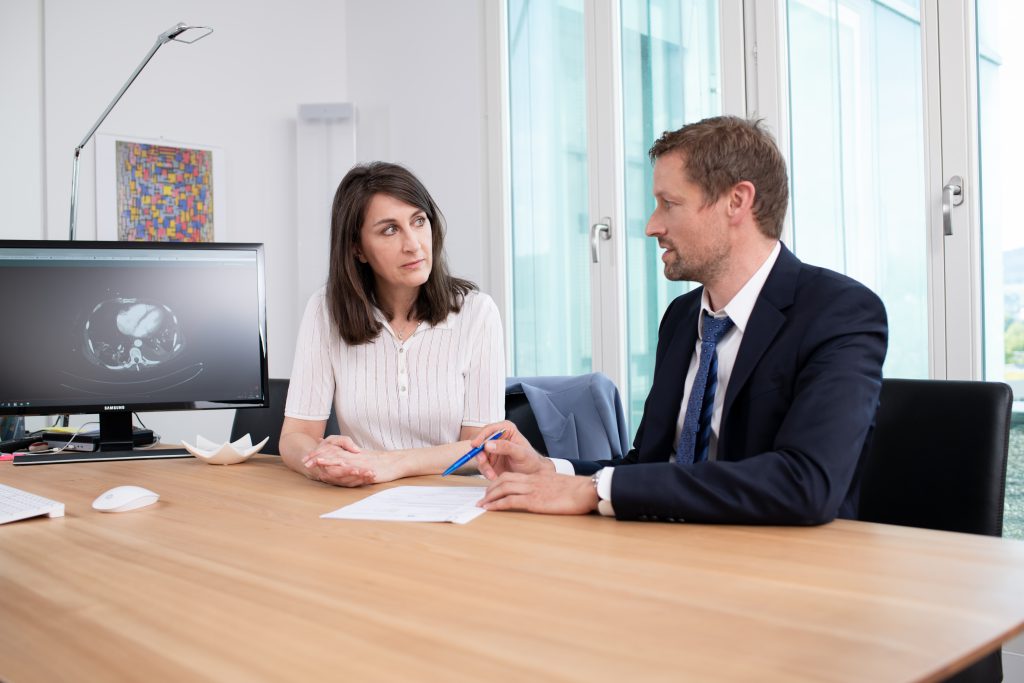 Immediately before the planned treatment, the necessary examinations are carried out in our modern laboratory. During the consultation, based on these examinations and clinical course, the therapy is discussed and prescribed. Patients receive the necessary premedication and the medication is now prepared quickly and safely on site by specially trained nurses in a laminar air-flow workbench. The procedures, standard operating procedures, safe storage of the medication, etc. are checked by a pharmacist specializing in oncology.
The therapies are administered in comfortably furnished rooms in the Tumor Center Aarau, which offer the patient a relaxing, pleasant environment during the therapy. The care is provided by experienced nurses specially trained in oncology, the prescriber is always present during the therapies.
Inpatients are cared for in a specialized department of the Hirslanden Klinik Aarau with a focus on oncology and palliative medicine. This ensures consistency and quality of care by a team specially trained in oncology.
Diagnosis and treatment of solid tumors:
Breast cancer
Lung cancers (Bronchial carcinomas)
Gastrointestinal tract cancers (esophageal, gastric, colon and rectal cancers, tumors of the liver, bile ducts and pancreas)
Uro-genital tumors: kidney, bladder, prostate and testicular tumors, ovarian cancer, endometrial cancer
Brain tumors, head and neck tumors)
Soft tissue tumors (sarcomas), neuro-endocrine tumors
Skin tumors (e.g. melanoma)
Advice / support services:
Psycho-Oncology
Physiotherapy, exercise in cancer
Pastoral care
Our centre is also a point of contact for obtaining a second opinion. Taking into account histology reports, molecular examinations, image documents, progress reports, etc., we get a comprehensive picture of the status of your disease and give you our therapy recommendations.